Workshops and Speaking Engagements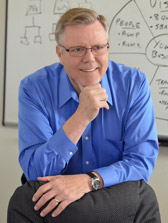 Are you planning an event for an audience of people who own and run entrepreneurial businesses? If you want to engage, inform and empower that audience, consider booking an EOS Implementer. Bill Seelig, our area Implementer, regularly delivers entertaining and actionable content tailor-made for busy entrepreneurs in a variety of formats.
We offer an inspiring, 90-minute Keynote Address that your audience will find jam-packed with real, immediately useful information. Get introduced to the real-world concepts of EOS and learn that it's not a set of do-nothing theories — just basic, proven tools.
Groups eager to dig deeper and apply the EOS Tools to their own businesses will benefit by extending the keynote into a hands-on Half-day Workshop. These interactive events move beyond the introduction of concepts and practical tools and focus on helping attendees put them to immediate use.
For smaller groups intent on thorough explorations of their own businesses and EOS, a Full-day Retreat may be in order. These intense, value-packed sessions help participants deconstruct their businesses, prioritize opportunities for improvement and apply the foundational EOS Tools in a way that materially strengthens their organizations by day's end.
Whichever event your group prefers, attendees are sure to walk away looking at their businesses in a whole new way. Owners and leaders will better understand what needs to change to get more of what they want from their businesses, and they'll be equipped with a complete set of powerful tools proven to help them clarify, simplify and achieve their visions.
Bill is available to speak to local Bay area business groups. He is an approved speaker for Vistage International and has experience speaking with local business organizations, The Alternative Board TAB, and The Institute For Management Consulting, USA.
Book an EOS Speaker for your group today