Best Selling EOS Business Books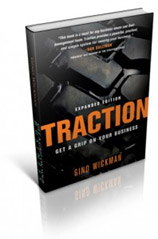 Traction: Get a Grip on Your Business
By Gino Wickman. Don't let common problems and frustrations run you and your business. Get a grip and gain control with the Entrepreneurial Operating System. Inside Traction, you'll learn the secrets of strengthening the Six Key Components of your business. You'll discover simple yet powerful ways to run your company that will give you and your leadership team more focus, more growth, and more enjoyment. A must read for every serious entrepreneur .
The concepts and tools that have been masterfully captured in the pages of this book have provided some of the magic that has helped us grow our business 300% over the last five years. Don't miss it!
Craig Erlich CEO pulse220
TRACTION is far and away the most potent and useful approach I've ever seen for running a successful company. The content is bulletproof! You have to read this book.
Vince Poscente Author, The Age of Speed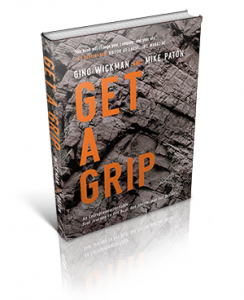 Get a Grip: An Entrepreneurial Fable
By Gino Wickman and Mike Paton. Eileen Sharp and Vic Hightower were frustrated. After years of profitable, predictable growth, Swan Services was in a rut. Meetings were called and discussions held, but few decisions were made and even less got done. People were pointing fingers and assigning blame, but nothing happened to solve Swan's mounting problems. It felt as though they were working harder than ever, but with less impact. The company Eileen and Vic had founded and built for 10 years was a different place. It just wasn't fun anymore. Their story is not unusual. The challenges they were facing are common, predictable, and solvable. Get A Grip tells the story of how Swan Services resolves their issues by implementing the Entrepreneurial Operating System®, a real-world toolkit used by thousands of existing businesses. With the help of EOS, Eileen, Vic, and their leadership team master a set of simple concepts and practical tools that help them get their growing business – and their lives – back on track.
After reading Get A Grip … I see clearly how implementing his Entrepreneurial Operating System could truly transform a business and put it on the road to greatness. This book will change your company—and your life.
Bo Burlingham, Editor-at-Large of Inc. Magazine; Author of Small Giants: Companies That Choose to Be Great Instead of Big
Get Your Free Download of

Chapter 1 of Traction

today!
Test the waters… Review the first chapter of our best selling business book.
Download Chapter
Sign me up for the

Traction for Success

newsletter
Sign Me Up
Seelig & Company has been successfully working with small and midsize businesses for over 20 years. We pride ourselves in our ability to form excellent working relationships with owners, presidents and CEOs to help them grow and/or revive their business to meet and exceed their expectations. Our results speak for themselves!